Mitchell Guist was a former reality star and hunter along the dangerous bayou of Louisiana. Like most of the people in his trade, he once skewered the Atchafalaya River Basin in search of the most dangerous reptiles. Alongside Glenn Guist, he became one of the most bankable faces on the History Channel.
Mitchell was also a decent fisherman who was known for capturing crayfish and even the prized Blue catfish. Just under a decade ago, news broke that the reality star had passed away. Learn more about Mitchell Guist's life and death in this review.
Who was Mitchell Guist? Life Before Death.
Mitchell Guist was a television personality on the Swamp People. The show follows renowned alligator hunters along the swamplands of Louisiana. Mitchell was a part of the show before news broke that he had died. The star featured in a total of three episodes, dating back to 2011.
Mitchell Guist came into this world on the 18th of May 1964 in Gonzales, Louisiana. His parents were Bonnie Albritton and Hubert Guist. They are both deceased at the moment as well.
Mitchell grew up alongside four siblings. These were brothers Daniel, Glenn, and Hurbert Jr. He also had a sister named Tonya. The tragedy is something that long stalked the Guist family. Mitchell lost two of his brothers, Glenn and Hurbert.
Mitchell lived a simple life in a small town with his parents. When he turned 18 years old, Mitchell moved to the bayou, where he shared a house with his brother Glenn.
From then on, the two became inseparable. They honed their hunting skills along the swamp for years before eventually making the big move to television. The very first episode they featured in saw the brother duo hunting for Cottontail Rabbits.
Mitchell Guist's Death.
11 years ago, more specifically, on the 14th of May, news broke that Mitchell Guist had passed away. According to the Louisiana Sheriff's Department, Mitchell was working on a houseboat along the Belle River when he suddenly collapsed.
At the time, he was in the company of an unnamed individual who tried to perform CPR on the reality star. When this did not work, he called Mitchell's wife, who dialled 911.
Mitchell was rushed to Teche Regional Medical Center but was unfortunately pronounced dead on arrival. Initially, it was thought that Mitchell had suffered a seizure. However, this was later disapproved after an autopsy was conducted.
The coroner found that Mitchell Guist had suffered a heart attack brought about by natural causes. There was no foul play involved.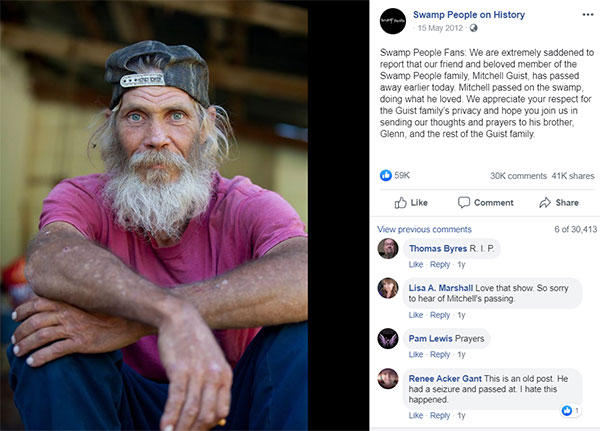 At the time of his death, Mitchell Guist was 47 years old.  Sadly, this was only four days before his 48th birthday. He left behind a wife.
Details about her, however, remain currently under review. His reality show, The Swamp People, is presently in its 14 season.