Randy Edwards was an American reality star and commercial hunter. He was a regular on the popular History Channel show, "the Swamp People," which he featured in for six seasons. Randy was the son of Junior and Theresa Edwards.
His father taught him everything he needed to know in regards to fishing and hunting. Randy also lived in the Bayou Sorrel in Louisiana, and it is here that he applied his trade. Two years ago, the famous reality star tragically lost his life. Find out what happened right here.
Randy Edwards' cause of death.
FIive years ago, on the 15th of September, news broke that an accident had occurred in Iberville Parish in the wee hours of Saturday morning.
It wasn't long before the police department and Randy's own family confirmed that the reality star was in the crashed vehicle. Randy was apparently Southbound along Highway 74 at 3 a.m. when the incident in question occurred.
According to police reports, Randy drove his 2002 Chevrolet Silverado into a utility pole located between LA 75 and LA 76. This came after he misjudged a left turn and veered off the road.
The crash was so serious that it threw him out of the car. The first respondents to the scene pronounced him dead on arrival as the crash had caused fatal injuries.
After the police conducted a toxicology report, they noted that Randy might have been under the influence of alcohol at the time. At a time, his judgment and vision were most likely impaired, resulting in the accident.
Louisiana State Police did not release a further report regarding the incident. Randy, a proud native of Donaldson, died aged 35 years old. At the time of his death, his reality show, "the Swamp People", was in its 10th season. Presently, the show is in its 14th season.
Family Post and Fan Comments on the Incident.
One of Randy's cousins, a man by the name of Ronnie, came out to confirm the incident on Willie and Junior Edwards' social media handle. He said that Randy was indeed the man involved in the car crash.
Ronnie also asked fans and the media, in particular, to respect the family's privacy during this difficult time as they grieved. He also asked everyone to keep his family in their prayers.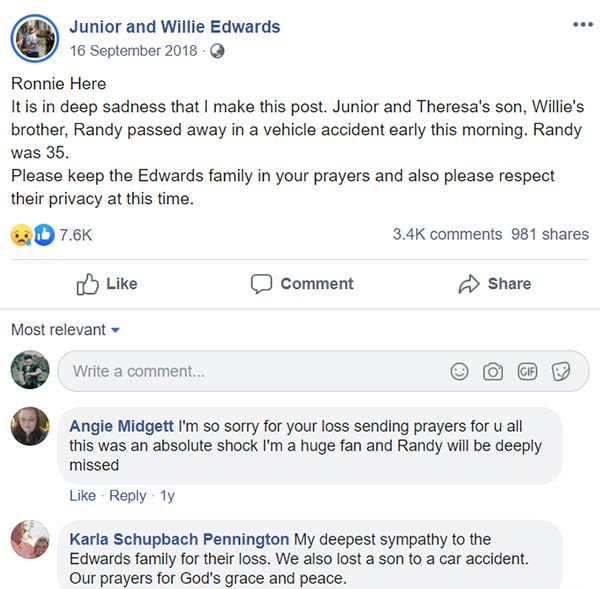 Other fans flooded his social media accounts to send in their condolences. One wrote that they would always remember Randy and thanked him for all the memories he gave them on the show.
Another fan chimed in to offer his condolences to the Edwards family, citing that they were the main reason that she fell in love with the show. Even his Swamp People castmate, Bruce Mitchell, publically offered his support to the Edwards family at the time.