The best-known snake hunter in Florida, Dusty Crum, was involved in a fatal car accident in November 2021. He is no mystery man and is considered among the best snake hunters in the world.
Crum goes by the moniker "Wildman" and hangs out circumnavigating Florida in search of Burmese Pythons while mostly going barefoot. Dusty came to stardom after his debut as the famous Python Hunter on the History's show "Swamp People."
He is also quite famous for his role on Discovery's show "Guardian of the Glades." He can be seen on the show battling the enormous constrictors as Burmese pythons in an effort to safeguard the Florida Everglades.
About Dusty Crum
Born on 31st May 1980, Dusty had already found his passion for chasing reptiles during his younger years. As a boy, he would frequently seek reptiles, and as he became more experienced, he even caught living pythons and shifted them to limit the population.
He was born and raised in Sarasota County, Florida, USA, and went to Sarasota High School. Although the TV persona had been capturing pythons his whole life, the pay was inadequate.
He thus sought alternative revenue streams, such as operating as a construction labourer. He was responsible for doing inferior duties like digging trenches and laying concrete.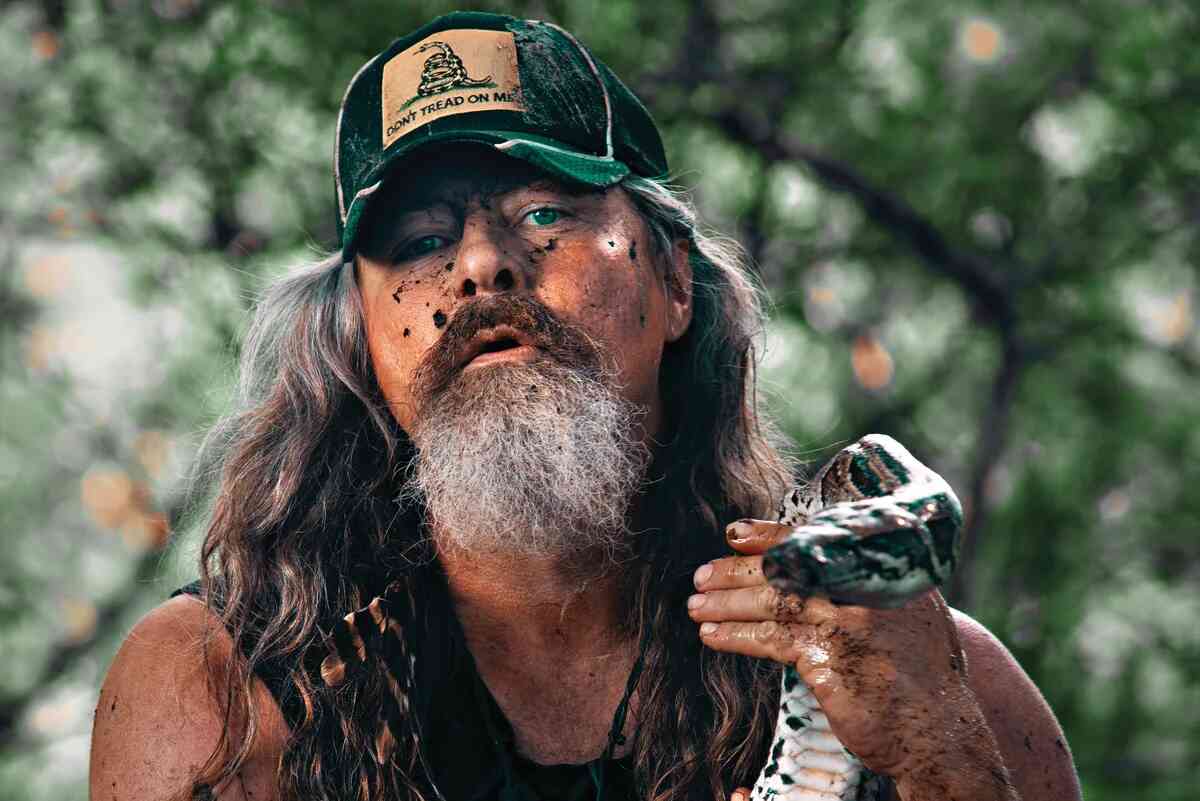 He decided that this was a terrible waste of his abilities, and he left his job to embark on a career as a snake hunter. Dusty found fame via his debut as a snake hunter on History Channel's "Swamp Mysteries with Troy Landry" in 2018.
Within a year, his presence on the show grew, and he soon became a regular cast member on the History show "Swamp People."
Shortly, he was also offered the lead role on Discovery's "Guardian of the Glades", which premiered on the 28th of May 2019. The protector of the ecosystem has also operated extensively with wildlife environmentalists over the years to save the habitat.
Crum has done great work by collaborating with the Florida Fish & Wildlife Conservation Commission and the South Florida Water Management District.
The snake hunter is in a relationship with Natalee Mckinney, who is also a veteran snake hunter and a local in Sarasota. Crum's net worth as of 2023 is expected to be around $400,000.
Dusty Crum's Leg Injury
The snake hunter was in a lethal car accident in November 2021 when returning home from Venice. He told TMZ about the happenings of the accident.
Crum said that he was in the passenger seat, and the truck driver slipped after a tire on the trailer burst, leading it to tailslide and then overturn three times. The collision severely injured his lower right leg and knee.
He was taken to the Lee Memorial Hospital in Fort Myers, where surgeons used five separate surgical techniques to preserve his leg. According to the reptile hunter, Once the car overturned, his window cracked, and his leg slid out.
His leg was then smashed by the mass of the truck, which was deadly. He claims that he was able to drag his leg back inside the moving truck. In an effort to stay conscious while waiting for rescuers on the roadside, the star used his shirt as a bandage to stem the bleeding after the accident.
He stated that he really thought he was going to die any minute. Nevertheless, fans are just happy to see that he has both legs and can still walk after an injury.
Dusty's Health Update
According to TMZ, Dusty's struggle resulted in him spending over a month in the hospital and requiring therapy to feel his best again. As the reality star lacked insurance and had financial debts, his pal, Joe Waves, started a GoFundMe page to raise money for his medical expenses.
The GoFundMe page's initial target was $20,000 when it was created. With more than 202 contributions totalling $20,290, the target was now attained and exceeded.
The reptile hunter was able to receive the help and medical care he required to return to his genuine passion, python hunting. What's more? Now that he can walk again, the famous reptile hunter is relishing his return to the swamp.
Back on Swamp
The defender of the Everglades searches for snakes all year long, but in 2021, he bid farewell to his role on Discovery. Nevertheless, the "baddest-ass python hunter in the world" that he calls himself is still going strong.
He appears in the currently airing 3rd season of the show "Swamp People: Serpent Invasion" on History channel. The snake hunter is now geared up to help in Louisiana, where he is dealing with gators.
Tess Lee Quick Facts
| | |
| --- | --- |
| Name | Dusty Crum |
| Birthdate | May 31, 1980. |
| Birthplace | Sarasota County, Florida, U |
| Profession | TV host, Snake Hunter, Environmentalist |
| Nationality | American |
| Girlfriend | Natalee Mckinney. |