Terral Evans is a television personality and Swamp hunter from Louisiana. His unique selling point comes from the fact that he is known for handling large gators barehanded.
This is a survival skill that he picked up from his grandfather. Most people go to him and ask him to take care of the deadliest predators out on the swamp.
Terral helps manage their population and keep them in check. He is also a proficient hunter and fisherman who enjoys spending quality time with his family. Explore Terral Evans's life in full detail as we bring you the most interesting facts about the man.
Who is Terral Evans?
Terral Evans is widely recognized for his time on the History Channel's Swamp People. From 2011 to 2016, he made regular appearances alongside the likes of Joe Lafont, Jacob Landry and his friend, Johny Panks. He was heavily involved in the shows' second and fifth seasons.
Presently, he is not part of the series. Terral, along with several other prominent hunters, left the show after its production rights were acquired by a different company.
Terral was also featured in the documentary Bigfoot Lives 2. The film was a sequel to the award-winning Bigfoot Lives. In it, we get to watch as Terral Evans and a few other hunters go in search of the mythical Bigfoot.
Terral grew up alongside the banks of Pearl River on Honey Island. Right from a young age, his family taught him all the survival skills he needed to make it to the Swamplands.
In an interview, Terral once said that living and surviving in the harsh terrain is what made him the perfect candidate for the Marine Corps. Being in service gave him the chance to travel across several countries worldwide.
When he was done serving his country, Terral Evans decided to set his roots back in his hometown. Afterwards, he worked in the Oil and Chemical Industry for over three decades, serving as a project manager.
Presently, Terral Evans spends his time tagging alligators. He works closely with the Mississippi-based Wildlife Conservatives and Fisheries. Remarkable, Terral is known for working in the cover of darkness, snatching dangerous reptiles right out of the swamp. He does not hunt gators at all but instead helps keep their population in check.
Terral Evans Measurements and Height.
The Alligator Hunter, Terral Evans, cuts an impressive figure. He stands at 6 feet 4 inches, weighing over 240 pounds in the process. It, therefore, comes as no surprise that he can wrestle and catch large alligators with his bare hands.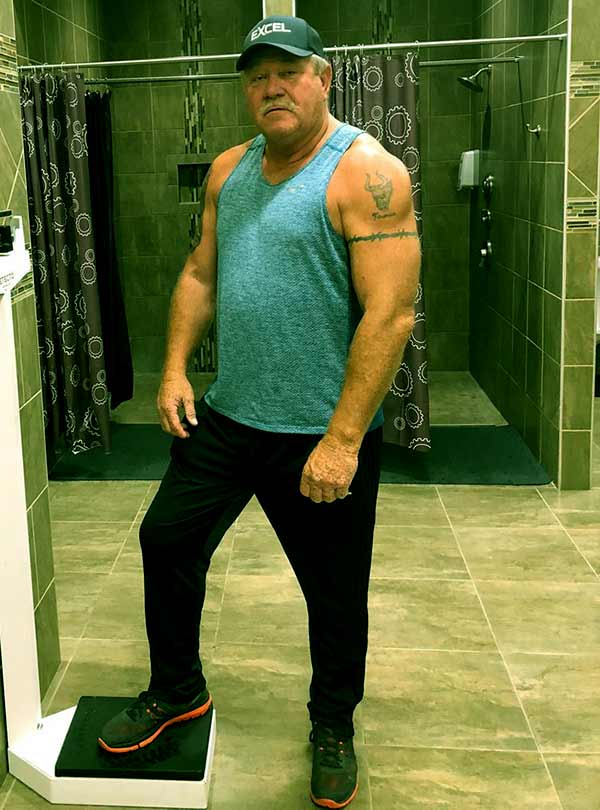 Terral Evans' Net worth.
There are no details regarding Terral's finances. As such, Terral Evans' net worth presently remains undisclosed and under review.
Terral Evans is a Married Man.
The conservationist, Terral Evans, is, in fact, a married man. There is mention of his family on his social media handles. Terral mentions that one of his favourite hobbies is spending time with his family. However, details regarding his family and children remain scarce at the moment. Stay tuned for further information as we dig into his past.
Terral Evans Wiki Facts.
| | |
| --- | --- |
| Full name | Terral Evans |
| Age | In his 60s |
| Date of Birth | The 1960s |
| Place of Birth | Honey Island, Louisiana, USA. |
| Profession | Retired Marine, Project Manager, Conservationist, Gator tagger, Television Personality |
| Net worth | Under review |
| Partner | Under review |
| Kids | N/A |
| Nationality | American |
| Ethnicity | Caucasian |
| Zodiac Sign | N/A |
| Parents | Under review |
 Terral Evans is not your average hunter. Instead of killing these deadly predators, he relocates them to Honey Island. Terral uses no type of weapon during this venture. He only relies on his own strength.
Despite his age, Terral is still regarded as one of the best alligator taggers in the business. These are survival skills that were handed down from generation to generation in his family.
However, not much else is known about Terral Evans besides the fact that he is a native of Honey Island in Louisiana. We did additionally learn that one of his favourite places growing up was along the Pearl River. This is where he honed most of his skills.